Ensuring Patient Safety in the Skies: Observing World Patient Safety Day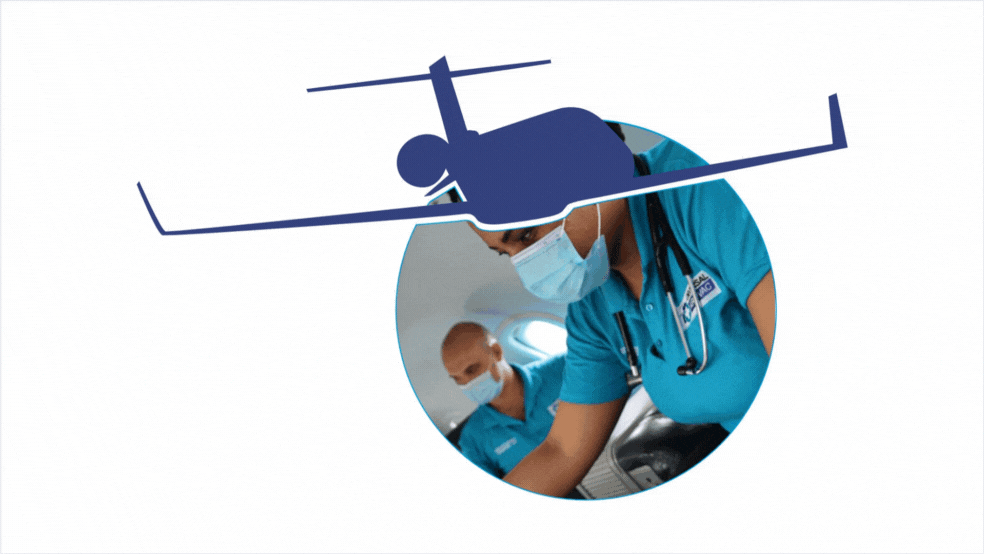 World Patient Safety Day, observed annually on 17 September, was established by the World Health Organization (WHO). It raises awareness about patient safety issues and promotes global efforts to enhance healthcare safety. It serves as a reminder that medical care should not only be effective but also safe, engaging, compassionate, and patient-centred.
Patient safety is at the core of everything we do, and today, we want to share how our dedicated team works tirelessly to ensure the well-being of our patients during the most critical moments of their lives. We took a look at the significance of this day and how Universal Air Evac is dedicated to upholding the highest standards of patient safety.
The Significance of World Patient Safety Day
Air ambulance services, like Universal Air Evac, play a crucial role in patient safety. They are a lifeline for patients in foreign, remote or inaccessible areas, offering rapid transportation to advanced medical facilities. However, the safety of both patients and medical personnel during these high-stakes journeys is paramount.
This year's theme, Engaging Patients for Patient Safety, highlights the invaluable role patients, families, and caregivers play in ensuring safe healthcare practices. Universal Air Evac is committed to promoting this concept and recognising the critical importance of involving patients in their care journey.
Universal Air Evac's Commitment to Patient Safety
Research has shown that when patients actively participate in their healthcare decisions, it leads to improved safety, higher patient satisfaction, and better health outcomes. We took a look at the key ways that we ensure that our patients are handled in a safe and engaging manner.
Expert Medical Teams
Universal Air Evac employs highly trained and experienced medical professionals, including doctors, nurses, and paramedics, who are well-versed in providing care in the air. They are equipped to handle a wide range of medical emergencies, ensuring that patients receive the best possible care during transport.
State-of-the-Art Equipment
Our air ambulances are equipped with advanced medical equipment and technology, enabling our medical teams to provide critical care services in flight. This includes life support systems, monitoring equipment, and medications to address a variety of medical conditions.
Rigorous Safety Protocols
Universal Air Evac follows strict safety protocols and procedures to minimise risks during transport. These protocols cover everything from pre-flight checks and patient assessment to communication with ground facilities and weather monitoring.
Continuous Training and Education
To stay at the forefront of patient safety, our medical teams undergo continuous training and education. This ensures that they are up-to-date with the latest medical advancements and best practices for in-flight patient care.
Regulatory Compliance
Universal Air Evac adheres to all relevant aviation and healthcare regulations and standards. Our commitment to regulatory compliance is a cornerstone of our patient safety efforts.
Thorough Patient Assessment
Before every mission, our medical teams conduct thorough patient assessments to ensure that the patient is stable enough for air transport. If a patient's condition is too critical, we may advise alternative modes of transport to minimise risks or delay transportation until the patient has stabilised.
Collaboration with Local Healthcare Providers
We work closely with local healthcare providers and emergency services to ensure seamless patient transfers. This collaboration allows for efficient communication and coordination during critical missions, which is communicated to the patient and families in a timely manner.
Patient-Centred Care
Above all, our focus is on the patient. We prioritise their comfort and well-being throughout the journey, ensuring that they receive compassionate and dignified care during what can be a challenging time. We put patients at the centre of our operations. Our medical teams are trained not only to provide exceptional medical care but also to communicate effectively with patients and their families, ensuring they are informed and involved in the decision-making process.
Advocacy and Education
We are committed to educating patients about their rights and responsibilities during medical transport. By empowering them with knowledge, we enable them to actively participate in their care.
The Bottom Line
As we observe World Patient Safety Day, Universal Air Evac reaffirms its commitment to upholding the highest standards of patient safety in the air ambulance industry. Our dedicated medical teams, advanced equipment, rigorous safety protocols, and patient-centred approach all contribute to ensuring that patients receive the best care possible during air transportation.
Universal Air Evac remains dedicated to providing safe and reliable air ambulance services, helping patients reach the care they need when time is of the essence, without compromising their safety or well-being. Together, we can make the skies a safer place for those in need.