Celebrating a Decade of Life-saving Flights: Universal Air Evac's Remarkable Journey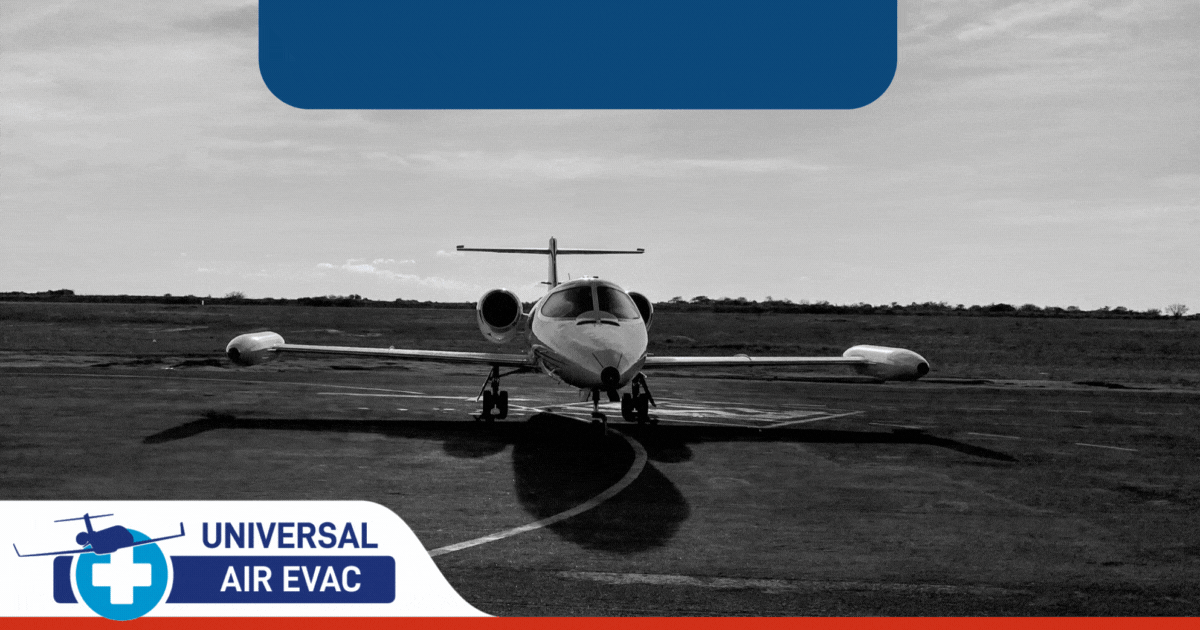 A decade ago, a passionate vision came to life, igniting a journey that would save lives across Africa and other continents, and redefine the standards of excellence in air medical services. Universal Air Evac, now celebrating its tenth year anniversary, emerged from the dedication and expertise of its founders, Brett Muir, Wayne Grindell and Glenn Staples. 
Let's take a journey back to where it all began, to the first mission that marked the beginning of this incredible legacy. We chatted to Wayne and Glenn, and found out about the first mission the team undertook and how the company has evolved since then. 
The First Mission
The first mission, the cornerstone upon which Universal Air Evac was built, took place early in 2012. As Wayne reflects, it was a time of careful planning and preparation, laying the foundation for what was to come. The process involved registering the company, procuring essential equipment, crafting a brand identity, and forging vital agreements with aviation providers. The journey was not without its challenges, but the shared determination of the team kept them moving forward.
Their dedication bore fruit, and as August rolled around, Universal Air Evac proudly declared their readiness to embark on missions. The announcement was met with swift validation as a week and a half later, the first mission materialised. A young woman, a 24-year-old American, found herself injured in Togo after a scooter accident. She was miles away from proper medical care and in dire need of evacuation. This marked the dawn of Universal Air Evac's life-saving missions.
The maiden flight took them to Togo's capital, Lomé. The injured American was serving in a US NGO and had been caught in a scooter accident. Her injuries were severe, including multiple fractures and internal injuries, however, due to the unsophisticated healthcare clinic in the country, the team were not completely aware of what lay ahead of them. But, they sprang into action, nonetheless and began the journey which stopped over in Luanda for a refuel, before landing in their destination in Togo.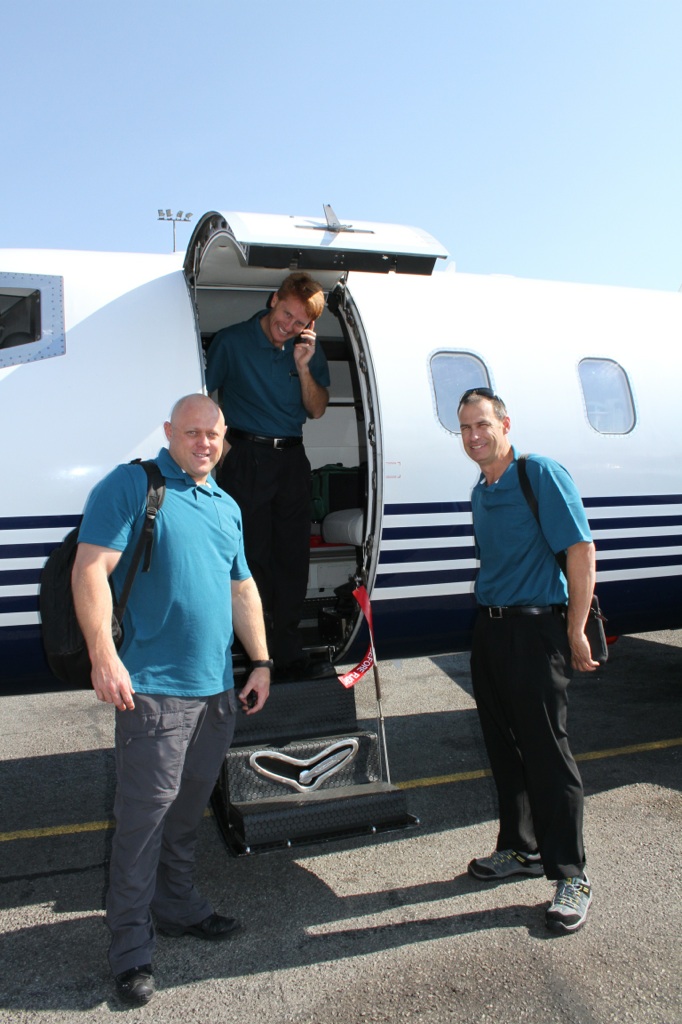 From left: Founders Wayne Grindell, Glenn Staples and Brett Muir.
A Veil of Uncertainty
Flights to countries in Africa have been challenging for the team from the outset. However, due to the fact that the two founders had already accumulated years of experience before undertaking the journey, there wasn't anything that they couldn't overcome. Challenges were met head-on, from ensuring quality medical care in primitive settings to navigating airspace regulations and logistics. Each challenge was an opportunity for growth and refinement, setting the stage for what would become a standard of excellence in air medical services.
Having already had hands-on experience in the field, the team knew what they faced. However, it didn't diminish the stark reality of the mission. The language barrier not only proved to be a challenge ten years ago, but remains as such today. Medical facilities in remote regions in Africa are also somewhat primitive. An accurate diagnosis is tricky to attain and in a lot of cases, underlying injuries go unseen. In this case, the team were met with a patient in a far more serious condition than previously expected and had to adapt their treatment accordingly. 
This has not changed much over the years, and the team is thoroughly prepared for any eventuality when it comes to patients. They not only carry all necessary equipment with them, but conduct their own examinations to accurately diagnose a patient.
A Company Born Out of Passion
Universal Air Evac was born out of the passion of its founders, Brett, Wayne and Glenn, for both emergency services and aviation. Their deep-rooted enthusiasm for these fields was the driving force behind the company's inception. 
Initially, the idea of starting an air ambulance service wasn't a deliberate plan for them. Wayne had previously established an emergency medical ground ambulance service, and they were engaged in various other health-related businesses. The unexpected opportunity arose when their aviation partners proposed the idea of launching an air ambulance service together. The owner and CEO believed in their expertise and offered to provide the aircraft, thus significantly minimising the risk on their part. 
Despite the presence of established players in the field, Brett, Wayne and Glenn embraced the opportunity, driven by their commitment to supporting Medair and their shared passion for emergency services and aviation. While uncertain of its sustainability initially, the determination and trust in its partners propelled Universal Air Evac forward, solidifying its place in the critical air medical transportation landscape.
The Subsequent Growth of Universal Air Evac
As the years unfolded, Universal Air Evac's reputation for transparency, reliability, and quality care grew. Their dedication to remaining cost-effective while delivering top-tier services set them apart. The accreditation by the world-renowned EURAMI demonstrated their commitment to excellence and innovation, with external auditors lauding their systems and practices.
Their success story isn't just about business growth; it's about saving lives and making a difference. The passion of their pilots, paramedics, and staff is infectious, creating a culture of dedication and impact. With its eye on the future, Universal Air Evac is poised to expand its footprint across Africa and beyond, with dreams of becoming a truly global presence.
The Bottom Line
From the first flight to the ongoing missions running to this day, Universal Air Evac has achieved extraordinary feats. Not only have they grown to be one of the most competitively priced repatriation services in South Africa, but one of the most dedicated and passionate in the field. 
In celebrating a decade of Universal Air Evac, we honour not only the incredible milestones achieved but the lives touched, transformed, and saved. The journey of this remarkable company is a testament to the power of passion, expertise, and unwavering commitment to a noble cause.