Universal Air Evac helps save scalped seaman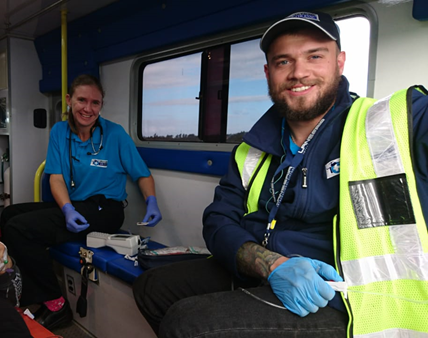 Universal Air Evac recently assisted in a life-saving rescue operation that began with a late afternoon distress call from a sea-going vessel off the southeastern tip of Madagascar. A ship engineer's hair had become caught in the engine, tearing his entire scalp off. Resulting in profuse bleeding, the injury required urgent medical intervention and Universal Air Evac was placed on standby pending the crewman's rescue off the ship.

With the vessel being too large to dock at Fort Dauphin, Madagascar, combined with dangerous weather conditions with high seas and rapidly approaching darkness, the injured engineer had to wait until first light for rescue operations to get safely underway. Fortunately, there was medical help onboard and the ship's doctor managed to slow the bleeding and administer intravenous fluids.

Universal Air Evac was tasked with carrying out an immediate air ambulance transfer to Johannesburg, South Africa. The team worked through the early hours of the morning to obtain the necessary flight clearances to Fort Dauphin. Medical information was sent to Awesome Air Evac's emergency medical doctor, who immediately requested emergency blood to be issued from the South African National Blood Service, as the patient's life was in immediate danger due to extensive blood loss.

Within two hours of activation, Universal Air Evac was airborne to Madagascar with a flight time of just over two hours. On the ground, Dr Jane Olivier, a South African doctor living and working in Fort Dauphin, was pivotal in the patient's extrication off the ship. With her background as a paramedic, Dr Olivier is perfectly suited for coordinating and performing patient evacuations.

Universal Air Evac's dedicated air ambulance landed in Fort Dauphin as the patient being brought ashore and within 30 minutes an emergency blood transfusion had been started. Antibiotics were administered to prevent infection and the Universal Air Evac medical crew, consisting of a doctor and a paramedic, ensured the patient was pain-free and comfortable during the flight.

A specialised ambulance received the patient immediately upon landing at Lanseria International Airport, with Universal Air Evac's doctor accompanying the patient to a level 1 trauma unit, where a surgeon was awaiting his arrival. After receiving treatment to ensure his condition was sufficiently stable, the patient underwent surgery the following day.
Find out more about Universal Air Evac