Universal Air Evac: Breaking Down Barriers For Women in Aviation on Women's Day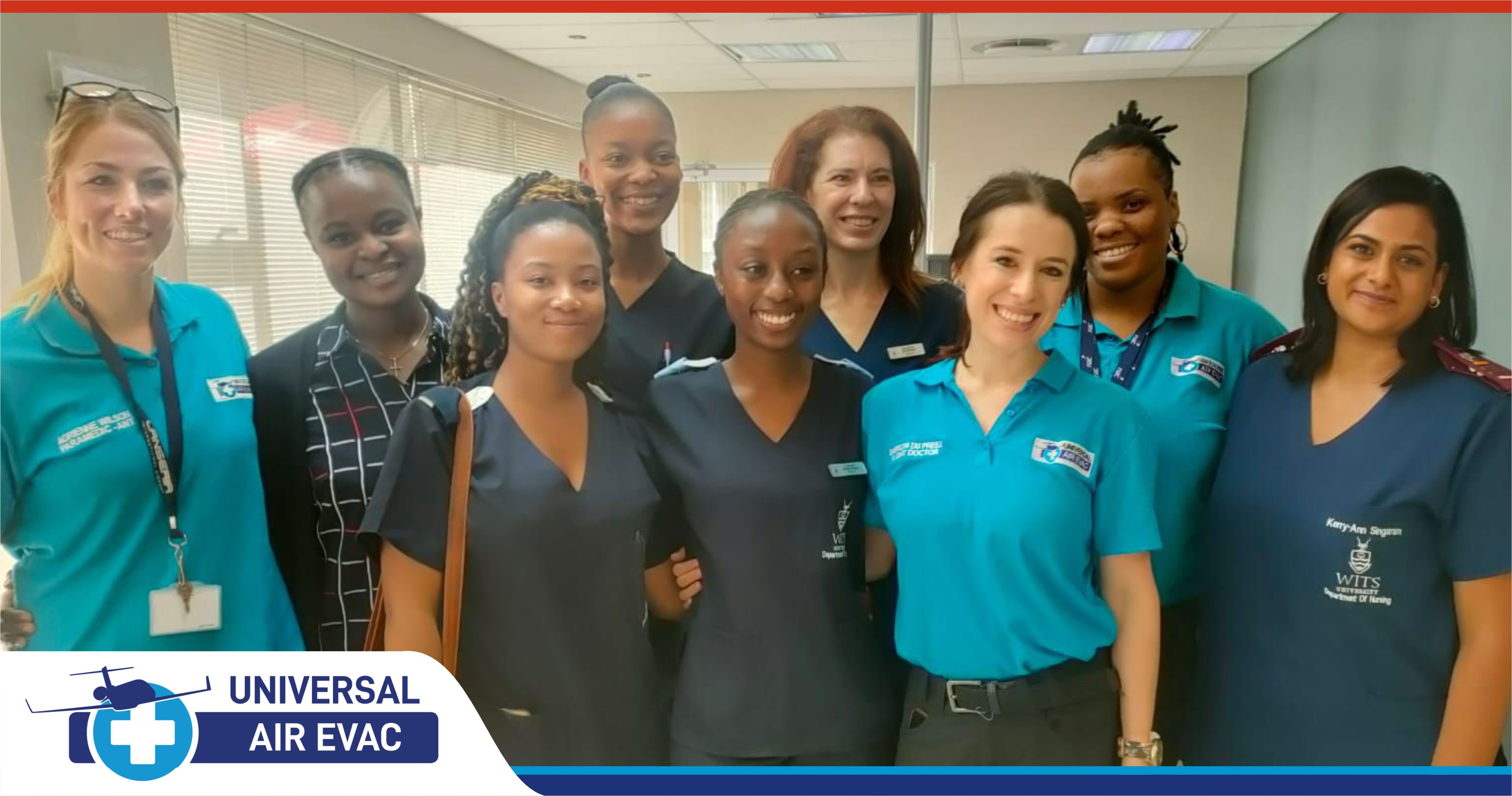 As March dawns every year, the world spends a day celebrating International Women's Day. This year, Universal Air Evac, an air ambulance company based in Lanseria, Johannesburg, marked the day accordingly.  On 6 March 2023, the company opened its doors to a select few young women, currently studying for their nursing degrees, to illustrate potential career options in air ambulance services.
Currently, the company already boasts a number of talented and highly passionate women in their employment, and on Monday, they eagerly met with the students to discuss the intricacies of the profession. The young medical students were not only introduced to what the profession entails, but were led through a tour of the medical storage unit, the hangar as well as the fixed-wing air ambulance itself.
Dr Sherilyn du Preez, Dr Itumeleng Radebe and paramedic Adrienne Wilson spent a valuable two hours with the ladies unpacking their experiences of the job. Not only did they touch on day-to-day duties, they discussed how they, as women, experience the role.
"For the most part, this career is perfectly suited to women. It requires passion, a caring bedside manner and a personal touch that every patient needs during a highly stressful time. However, some of the challenges that still arise are the misconceptions of women not being able to carry out the job alone."
"Men still think we cannot carry medical equipment alone, or have the strength to handle and carry patients. Another challenge usually lies in certain areas of the world where women are required to be escorted by men, or where men refuse to be treated by women."
"These misconceptions and challenges aside, it is an exciting and ever-changing career," Sherilyn explained. "Not only do you get to see all parts of the world, and constantly be on the go, you are helping people in their most dire hour and bringing them back to the comfort of their own home ground."
Currently, the aviation industry is heavily dominated by men, with women occupying significantly fewer job titles. Although there has been a slow but steady increase in the number of women in the industry, the percentages of women in positions such as pilots, engineers, and repairs remain in the single digits. Flight attendants, on the other hand, are the largest group of women in the industry, comprising 79% of the workforce.
In the air emergency field, numbers are just as low. 17.1% of air ambulance captains are women and 82.9% of air ambulance captains are men. In other parts of emergency aviation medical services; Helicopter Emergency Medical Services (HEMS), 1 in 5 HEMS doctors and 1 in 4 HEMS paramedics are women. This makes the whole field, in general, prime to welcome more women into the field to make a difference to other people's lives.
As the morning drew to a close, the students shared what the outing meant to them. "As a young woman, coming from a small village, you are under the impression that a career in nursing means working in the local clinic or visiting schools to give jabs to the children. You are not aware of other options and opportunities open to young medical students. A day like this provides you with that insight into what possibilities exist in various industries, like the aviation field for nurses."
Universal Air Evac is Africa's most trusted air ambulance and commercial medical escort provider. Based in Johannesburg, South Africa, they offer a variety of air medical flight services including private air ambulance and commercial medical escorts. They provide end-to-end patient transportation and accompany the patient from point of departure to hand-over at the desired destination.